OCR GCSE Latin Set Text 2023 and 2024
quaeris quot mihi bastiones
tua Lesbia sint satis superque.
quam magnus numerus Libyssae harenae
lasarpiciferis iacet Cyrenis
oraclum Iovis inter aetuosi
et Batti veteris sacrum sepulchrum;
aut quam sidera multa cum tacet nox,
furtivos hominum vident amores:
tam te basia multa basiare
vesano satis et super Catullo est,
quae nec pernumerare curiosi
possint nec mala fascinare lingua.
"You ask, Lesbia, how many [of] your kisses are enough and more than enough for me. As great a number as [the grains of] Libyan sand [that] lie in silphium-producing Cyrene between the oracle of sultry Jove and the sacred tomb of ancient Battus. Or as many as the stars [which], when night is still, observe the secret love-affairs of men. To give you this many kisses is enough and more than enough for a feverish Catullus: so many that prying people cannot count them, and wicked tongues cannot bewitch them."
How Many Kisses is the nickname given to Catullus Poem 7 in the Cambridge Latin Anthology. It is one of the numerous poems that the poet Catullus dedicated to a woman he named "Lesbia", widely accepted as a pseudonym for the notorious Clodia, an aristocratic and educated woman whose conduct and motives are famously maligned in Cicero's surviving speech On Behalf of Caelius, delivered in 56 BC. Catullus's style was deliberately personal and avant-garde, in stark contrast to traditional poetry in the grand style; he wrote passionate, irreverent and sometimes lewd dedications to a string of lovers but most famously to Lesbia. His work is highly individualistic, humorous and emotive.
This poem is included in the list of OCR's verse set texts (selection A) for 2023 and 2024. It is also on the list of Catullus texts for A level in the same years, as part of the Catullus grouping.
Unlike the GCSE set texts that I have examined in my three previous blog posts, Catullus 7 is extremely short, which means that we have the space to examine it in some considerable detail.


Catullus addresses Lesbia directly, purpotedly in answer to a flippant question on her behalf. Is Catullus insatiable? So it seems. Catullus' tone in the whole poem places Lesbia firmly in control: he is at the mercy of her charms and his desire for them is prodigious. This is a theme that is repeated across much of his poetry.
Catullus invents the word basationes for humorous effect: the 2nd declension neuter noun basium (picked up again in line 9) was the colloquial term for a kiss, but here he adjusts its composition to mimic the more formal 3rd declension noun osculatio (plural osculationes). So how many of these basationes will satisfy Catullus?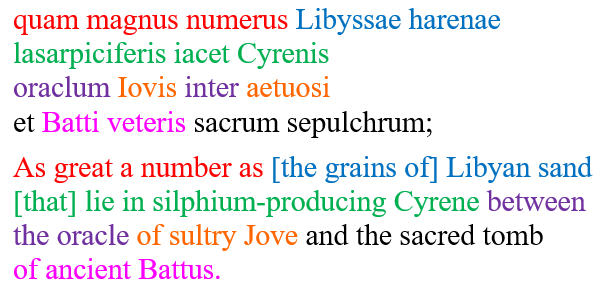 This kind of hyperbole is a poetic feature that students may have met before; many of them will have studied To His Coy Mistress by Andrew Marvell, as it is included in the AQA Anthology for English literature, and if they are familiar with it this should make an excellent point of comparison since it uses both Classical imagery and hyperbole in the same way that Catullus is doing here. The first half of Marvell's poem is a classic example of this kind of hyperbolic conceit:
Had we but world enough and time,
This coyness, lady, were no crime.
We would sit down, and think which way
To walk, and pass our long love's day.
Thou by the Indian Ganges' side
Shouldst rubies find; I by the tide
Of Humber would complain. I would
Love you ten years before the flood,
And you should, if you please, refuse
Till the conversion of the Jews.
My vegetable love should grow
Vaster than empires and more slow;
An hundred years should go to praise
Thine eyes, and on thy forehead gaze;
Two hundred to adore each breast,
But thirty thousand to the rest;
An age at least to every part,
And the last age should show your heart.
For, lady, you deserve this state,
Nor would I love at lower rate.
The metaphysical poets such as Marvell aped a similar style to that of Catullus; their works were both humorous and intellectual, designed to tease and cajole the object of their affections into bed. In our poem, Catullus exaggerates the number of basationes that he requires from Lesbia by comparing them to uncountables: the fact that the sand is Libyan and lies between the two famous sites of the tomb of Battus and the oracle of Jupiter in Cyrene adds colour and vibrancy and is an acknowledgement of Lesbia's education and culture: she is a docta puella, a girl of education and discernment.
Silphium is somewhat mysterious to us. We know it was a strongly-flavoured and highly-prized herb that was sought-after in Roman times but we have failed to identify exactly what it was: we do not even know whether it still exists. We do know, however, that it was used either as an aphrodisiac or as a form of contraception, hence it is an appropriate reference for Catullus to use in his sexually-charged address to his mistress.

Catullus continues his hyperbole. Having compared the number of kisses he craves to grains of sand, he now compares them to the number of stars in the sky, then enriches this with the image of those same stars silently watching lovers in the silence of the night. Note that these liaisons are illicit (furtivos), all adding to the atmosphere of highly-charged excitement.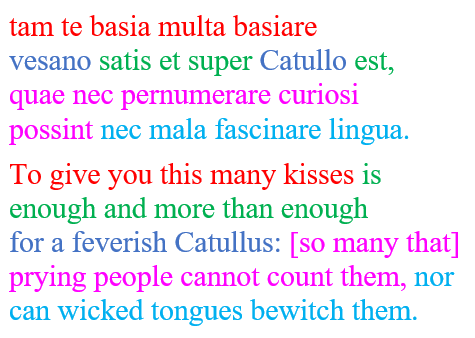 In line 9 Catullus uses both the noun basia and the verb basiare, overwhelming us with this vocabulary in the same way as he wishes to overhwlem Lesbia with his kisses. The word pernumerare is a compound verb, exaggerating the imagined difficulty with counting the kisses. vesano, which I have translated as "feverish" can also be translated "mad" or "insane" – it acknowledges Catullus' apparent lack of control in Lesbia's presence. There is a nod towards traditional beliefs in the close of the poem, as it was a common superstition that to count one's blessings was bad luck; Catullus and Lesbia are safe, however, because Catullus is so passionate that no-one will ever be able to count up the number of their kisses. In this way, Catullus concludes his poem with an amusing argument as to why Lesbia should be happy to put up with his voracious appetite for her affections.